A resort with calm at its core, Qi Palawan rests lightly on three hectares of beachfront an hour's drive from El Nido. The real draw at this resort is the chance to simply do nothing in a beautiful, rarely seen part of Palawan.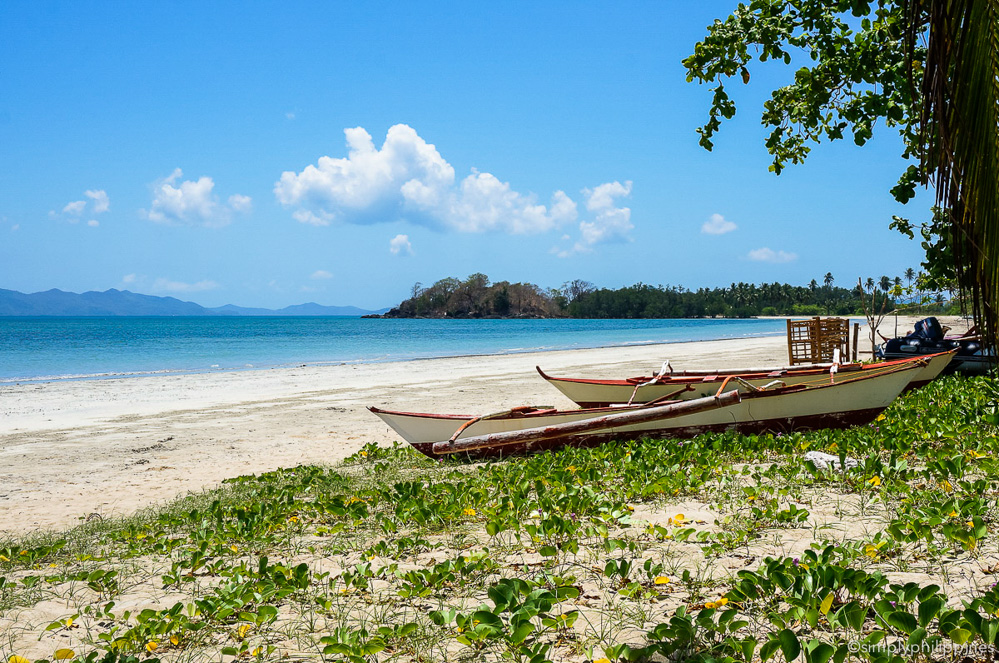 Location
Qi Palawan is about 30km from El Nido on the northern tip of Palawan Island. It's a pleasant and sometimes bumpy ride from El Nido to the resort. Transfers are included in the room rates.
ALSO READ: 7 Essential Tips for Seeing the Best of El Nido
Rooms
There are seven cottages staggered in a semi-circle around the pool and facing the beach. Qi Palawan's villas are made of mature bamboo poles. These hold high the thatched roofs, and give each of the rooms a generous sense of space. The coconut wood floors creak quietly underfoot, and there's a huge bed with a super comfy mattress waiting for you.
Outside on the veranda, you'll find a sun lounger and wicker chairs: hints of the lazy hours ahead. Most of the furniture in the resort is made right on site by carpenters from the next village.
Room tip: Book Cottage 5 for the best view of the beach. There are two 144sqm villas as well, great for groups, families or friends.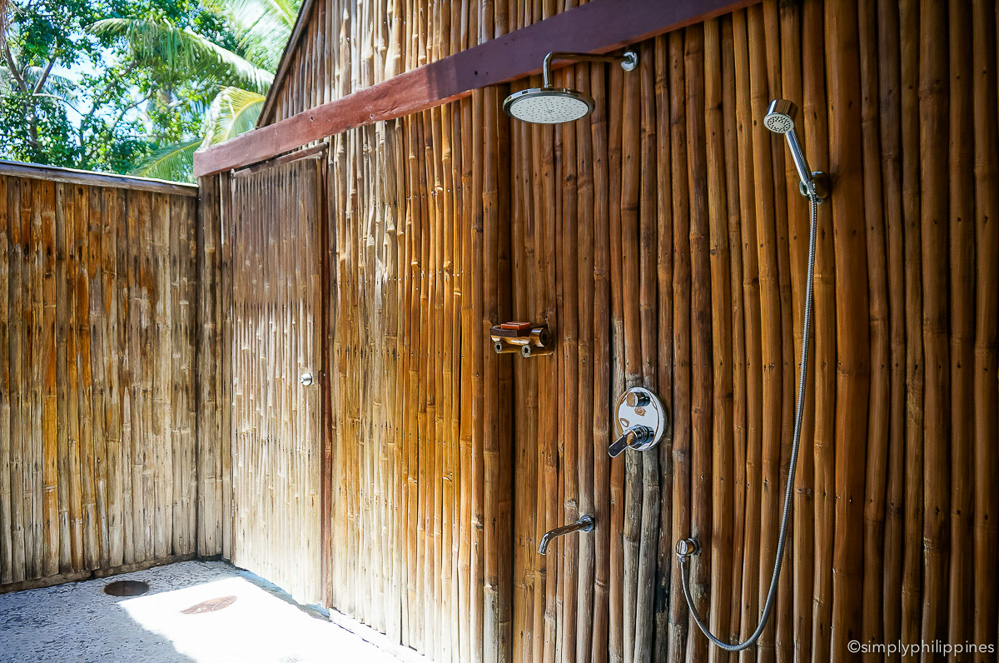 The outdoor bathrooms at Qi Palawan are (almost) the best part! They're prepped with papaya soaps, thick towels, and jumbo rainshower heads. The shower opens to the sky, so you can look up at the trees and hear the whistles and chirps of tropical birds while you shampoo. 🙂 
Dining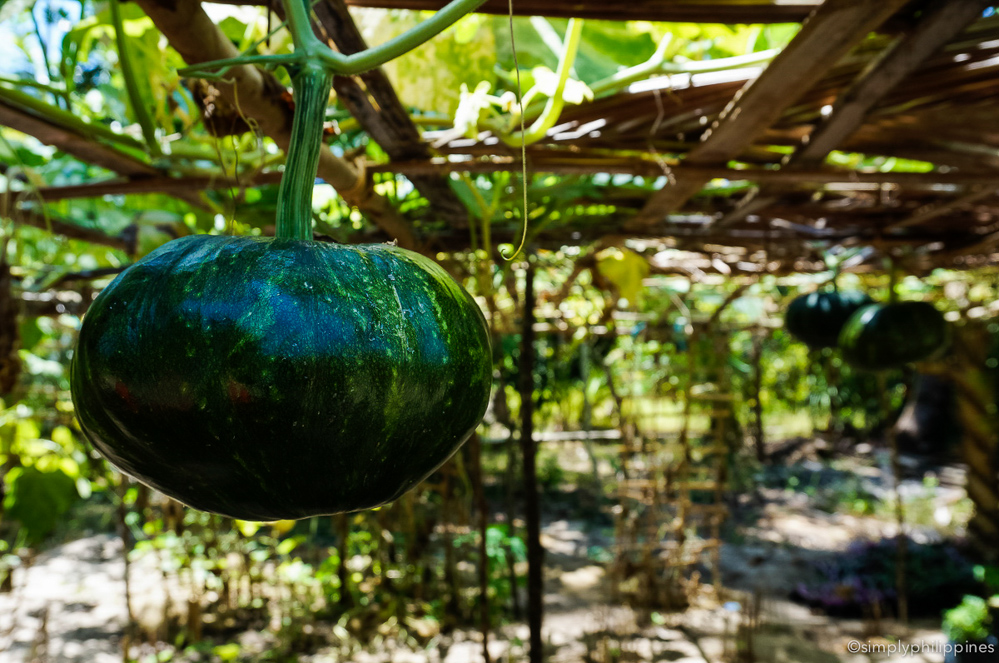 I was surprised how well Qi Palawan's Spanish-inspired menu matches the setting. After all, this is a remote corner of Palawan. Who knew black squid stew and chicken in its own sauce would go down so well? The herbs and vegetables are grown in the resort's organic gardens, and the menu stars ocean-fresh squid, clams, fish, prawns and mussels. In the morning, try a cup of Palawan-grown coffee, perfectly roasted at the resort.
Activities
It's fair to say the most popular activity at Qi Palawan is chilling on your front porch. But if you fancy a bit of action, there's plenty to keep you occupied.
This slideshow requires JavaScript.
Though the beach isn't great for swimming, there is an inviting swimming pool in the gardens. Kiteboarding, diving, island-hopping, stand-up paddleboarding, billiards, board games and beach picnics are all available. You can even take a cultural tour to the Cuyonon museum in nearby Sibaltan, or learn about vermiculture in the vegetable patch.
Don't miss the complimentary yoga classes, taught each morning. Drink in the sight of fluffy clouds, blue sky and waving palms as you twist and stretch.
Before you go (or preferably as soon as you arrive!) book a treatment at Qi Palawan's bamboo spa for soothing herbal baths and deep tissue massages.
---
Qi Palawan Resort Review Summary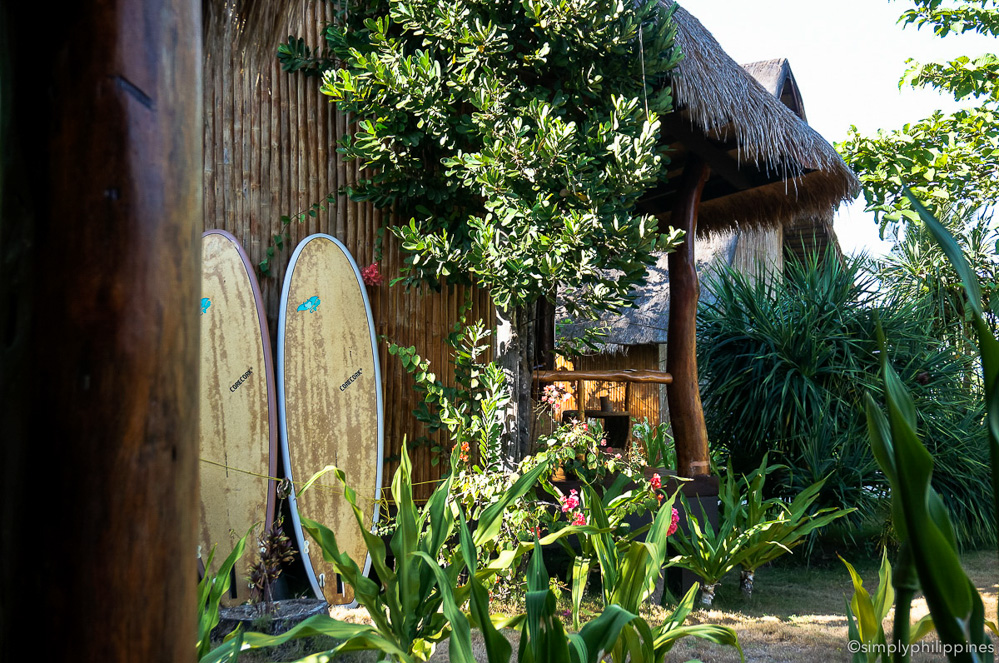 Highs: Beautiful cottages, privacy and seclusion, swimming pool, top-notch restaurant
Lows: Though scenic, the beach is not suitable for swimming. There are some sandflies too, but the resort offers citronella oil and natural repellants in all its rooms.
Good to know: The resort is far from the attractions in El Nido. Isolation is part of its appeal, but you won't be going into the town for restaurants or tours without some effort.
Rates: From PHP 8,800/night for cottages, and PHP 13,000/night for family villas. Transport to and from El Nido is included in the nightly rates.
Contact: +63 939 925 9433, info@qipalawan.com, www.qipalawan.com
Not what you're looking for? See current deals on hotels in El Nido on Booking.com
---
Sustainable Practices at Qi Palawan Resort
Economic Sustainability
We believe that the well being of our local community is integral to forming a successful plan for sustainable tourism and development. In addition to minimizing our carbon footprint, we strive to increase the economic well being of the community. We have made an effort to use as many local laborers and artisans as possible in our development. We also have several community projects we support. If you would like to help by brining specific items or volunteering your time, please let us know before your arrival so we can suggest specific items in needed.
Environmental Sustainability
To our reduce impact on the environment, we've emphasized bamboo as opposed to slow growth hardwoods for our building materials. It's the ultimate green material – its grows rapidly without fertilizers. In addition, we are slowly growing our solar supply and hope to one day be completely solar. Until then, we manage the use of our generators to find the right balance between energy conservation and guest comfort. We use as little plastic as possible and whenever possible use biodegradable products. We are a proud member of Zero Carbon Resorts.
---
---
♥♥♥