(Updated with new van times: March 1, 2016.)
Transport to Port Barton has come, well, a long distance over the past few years. The road is still unpaved in parts, and nothing can be done about the waves at certain times of year, but overall the ride is shorter and more comfortable than ever. Here's the lowdown on transport to Port Barton:
---
Recaro Van from Puerto Princesa to Port Barton:
Recaro's air-conditioned vans, the fastest and most comfortable transport to Port Barton, leave from the San Jose Terminal in Puerto Princesa at 7:30am, 9am, 11am, 2pm and 4pm. The ride takes just under three hours one way. Tickets are 350 pesos per person, or 500 if you're getting picked up at the airport. Text ahead (a few days in advance is ideal) to book the seat of your choice.
Recaro van booking number:
+63 909 351 3037 (Smart)
+63 905 485 8597 (Globe)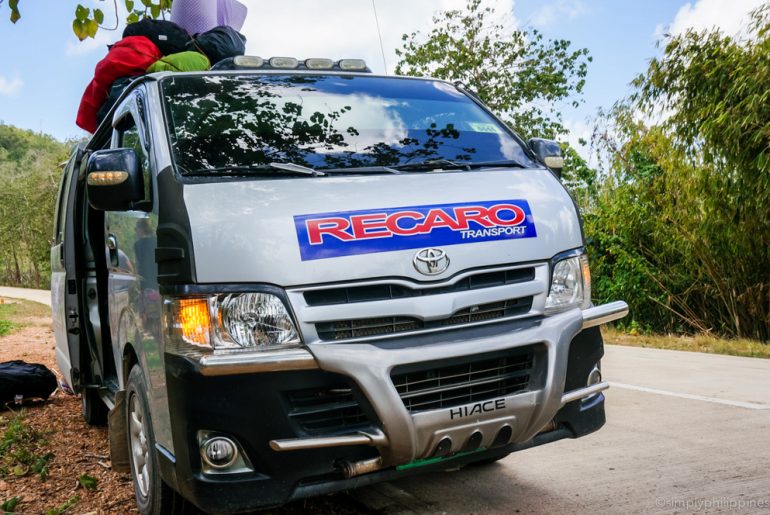 Recaro's vans often depart half an hour late. Don't be alarmed if it's 20 minutes past the departure time and it hasn't shown up yet. Once it does, all the luggage will be piled on top of the van, and fares will be collected before leaving. There is usually one stop halfway through at a roadside restaurant. Note that the last 50 minutes of the drive are spent on bumpy unpaved roads that curve through the countryside.
UPDATE: Recaro's van ride now ends at the 'new' tourism center in Port Barton, where 'officials' are now extracting a 50-peso environmental fee from all visitors. The fee must be paid if you plan on going on any tours or getting on any boats in Port Barton. It's a very short stroll from there to the beachfront.
TIP: If you get motion-sick easily, when booking ask for a seat nearer the front of the van or in the front row with the driver. Nibble soda crackers just before climbing aboard to settle your stomach for the winding roads ahead.
Lexxus Van from Puerto Princesa to Port Barton:
Lexxus Shuttle service is now running four trips daily between Puerto Princesa and Port Barton. The schedules are posted at this link. Usually in the Philippines it's not possible to book and pay for van or bus tickets ahead of time. But you can call ahead to reserve a seat.
Lexxus phone numbers:
+63 917 686 1118 (Globe)
+63 920 957 1025 (Smart)
If you're not sure if Port Barton should be part of your itinerary, check out my post 'Why We Love Port Barton and You Will Too.'
---
Bus from Puerto Princesa to Port Barton
If you're up for the adventure there is one open-air bus leaving every day from the terminal in San Jose, Puerto Princesa at 9am (tickets were 250 pesos last we checked, but prices seem to go up all the time.) Travel time is about four hours. There are no head-rests on the seats. You can expect at least one stopover along the way.
Boat from Sabang to Port Barton
The trip from Sabang to Port Barton by sea is wonderfully scenic, full of virgin seascapes, lushly forested islands, foamy waves crashing over jagged rocks, and all the deep blue one could ask for. With the journey lasting anywhere from three to four and a half hours, there's plenty of time to take it all in. This trip should only be attempted in good weather. Start out as early as possible while the sea is still calm.
Hiring the whole boat will cost from 4,000 to 5,500 pesos, depending on your haggling ability. If there is a boat already departing (a possibility in peak season), a ticket should run you 1,200 pesos. Go the the booking shed at Green Verde restaurant on Sabang beach to arrange a boat from Sabang to Port Barton. Another option is to arrange a stay at Secret Paradise Resort, which has its own boat that can pick you up from Sabang. 
A couple of my favorite places to stay in Port Barton are included in this post, and on the main beach I wholeheartedly recommend trying Barton Bistro and Cottages.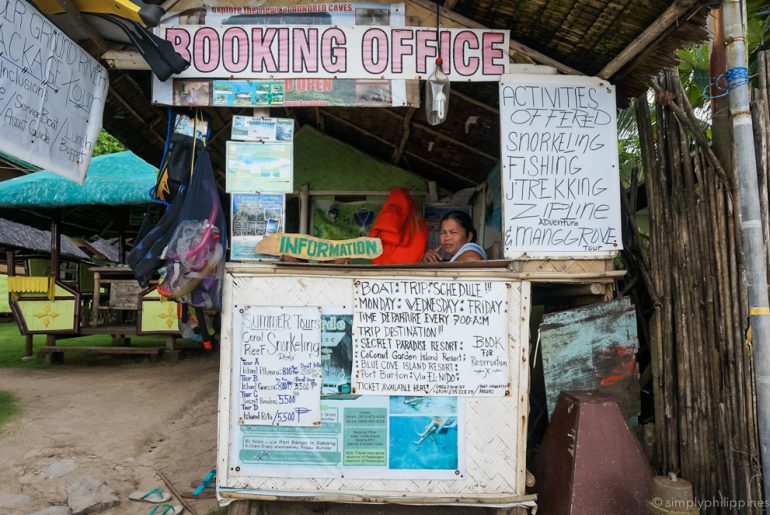 Before setting out, fully charge your i-things and musical devices. Then, enjoy this rarely seen part of Palawan to the soundtrack of your choice.
Van from El Nido to Port Barton 
There are now several vans that go directly from El Nido to Port Barton. Travel time is about 4 hours. The Recaro vans leave daily at 7am and 1pm from the terminal in El Nido, tickets are 800 pesos. Call the Recaro number (above) to reserve a seat. There is also one other van operator that leaves from El Nido at 8am and 2pm. Visit the bus terminal and any local can point you in the right direction.
Transport from Port Barton to El Nido or Puerto Princesa
The easiest way to leave Port Barton is on a van to Puerto Princesa or El Nido. Some travellers choose to charter a boat for the three- to five-hour trip to El Nido, but a more reliable option is to go over land to your next destination.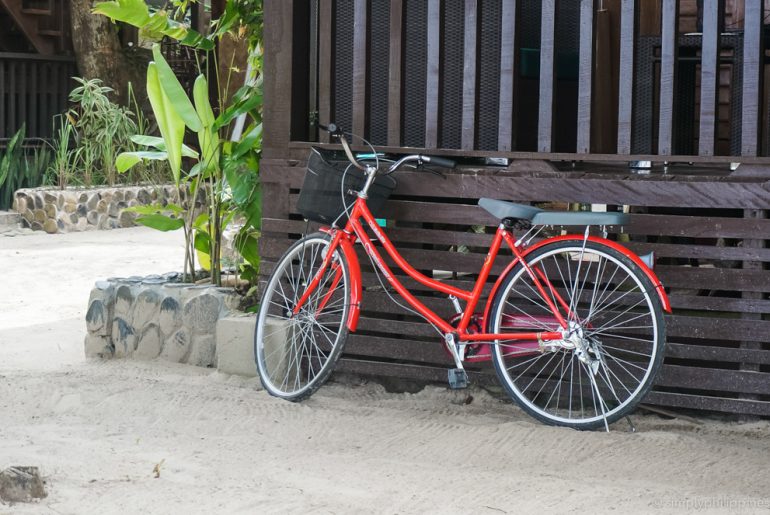 Van from Port Barton to El Nido 
Two Recarro vans make the trip from Port Barton to El Nido daily. The vans leave at 8am and 1pm from the intersection just opposite Ayette's Bamboo House, or from the Recaro terminal (they always visit the terminal before leaving, even if they load up elsewhere.) Tickets should be 800 pesos if you book directly with Recaro. For more options, another new van service leaves from the corner just opposite Ayette's Bamboo House at 8am and 2pm daily.
Important: Beware of the fixers that roam around the streets of Port Barton offering to book the van for you. They will often add anywhere from 100 to 300 pesos to the real ticket price.
The van drops you off in the bus terminal in El Nido. You can get trikes (three-wheeled motorbike + sidecar contraptions) to bring you from here to your hotel or resort. Haggle a bit on the price.
Van or Bus from Port Barton to Puerto Princesa:
The open-air bus leaves from the tourism assistance centre in Port Barton headed for Puerto Princesa at 9am daily (tickets are 250 pesos.)
Airconditioned Recarro vans leave from Port Barton to Puerto Princesa at 6am, 8am, 11am, 1pm and 4pm daily. Tickets are 350 pesos, 500 for drop-off at the airport. Be sure to text or call ahead to reserve seats (+639093513037, +639054858597) or buy them at the Recarro office near Princess Michaela's in Port Barton.
Airconditioned Lexxus Shuttle vans make the trip from Port Barton to Puerto Princesa four times daily. Check the schedule at this link.
Both vans and buses will drop passengers off at the San Jose (New Public Market) terminal in Puerto Princesa, unless you've paid to be dropped off at the airport terminal.
If you're spending any time in Puerto Princesa at all, check out my Ultimate Guide to a Short Stay in Puerto Princesa.
---
Recarro Van Terminal in Puerto Princesa