Food is a huge part of discovering a new country. Knowing where to eat in the Philippines to taste real island cooking and traditional recipes is not always easy. To make life simpler for you (ahem) I've traveled and eaten my way through the islands, taking notes whenever a meal made me sway, swoon and swear to come back. Here are 10 of the best meals I've had from all around the archipelago. Dig in!
Oh-so-simple 'paksiw' at Barton Bistro
Paksiw is a quintessential Filipino dish. It goes back to before refrigeration, when islanders would cure fish in vinegar to make it keep for longer. After about a month eating everything on the menu at Barton Bistro, one day I asked the staff to make me paksiw. This is what they produced: Fresh fish, barely cooked vegetables, and a light, sour sauce to drip over hot rice. It's a dish so simple and bright, you couldn't dream up a more fitting local lunch.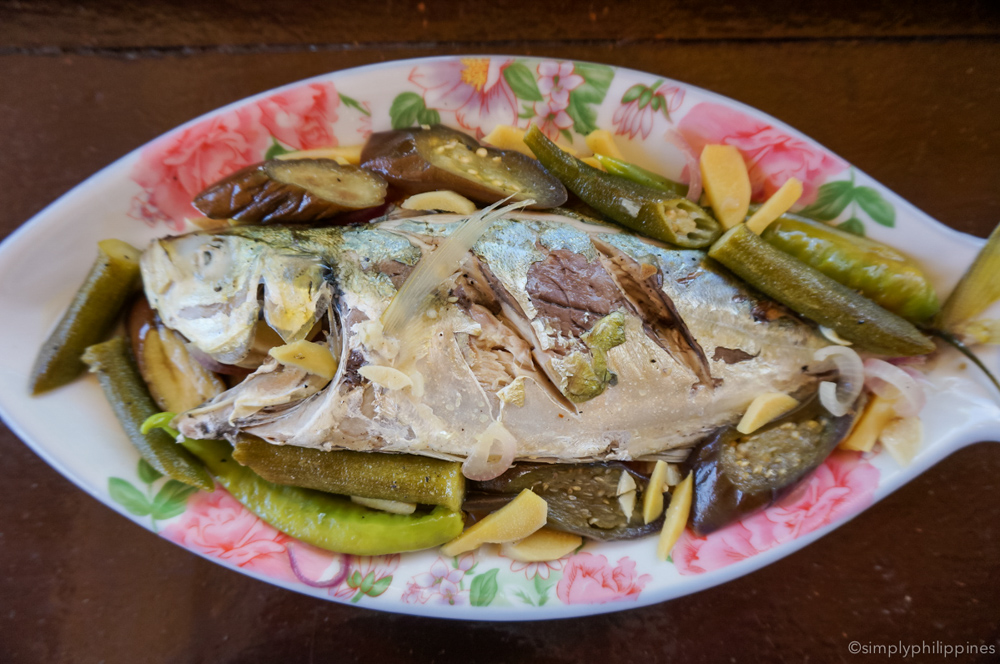 Boholano Menu at Amorita Resort, Bohol
This lunch at Saffron restaurant was an eye-opener for me. Not just because of Chef Raphael Ongchiong's striking presentation: I'd never tried binakol before, or balbacua or halang-halang. These are all light dishes that will surprise you with their flavor and technique. But you've got to get out of the city to find them.
Fish curry at Ursula Beach Club, Sibaltan
Sibaltan is a sleepy (like, deeply drowsy) fishing town on the northeastern side of Palawan. Ursula Beach Club is a small restaurant and guesthouse built on the sand. Their kitchen is run by the family matriarch. Freshly squeezed coconut milk and fish caught the same morning went into this simply unforgettable fish curry. We came back and ordered it again the next day (and the next.)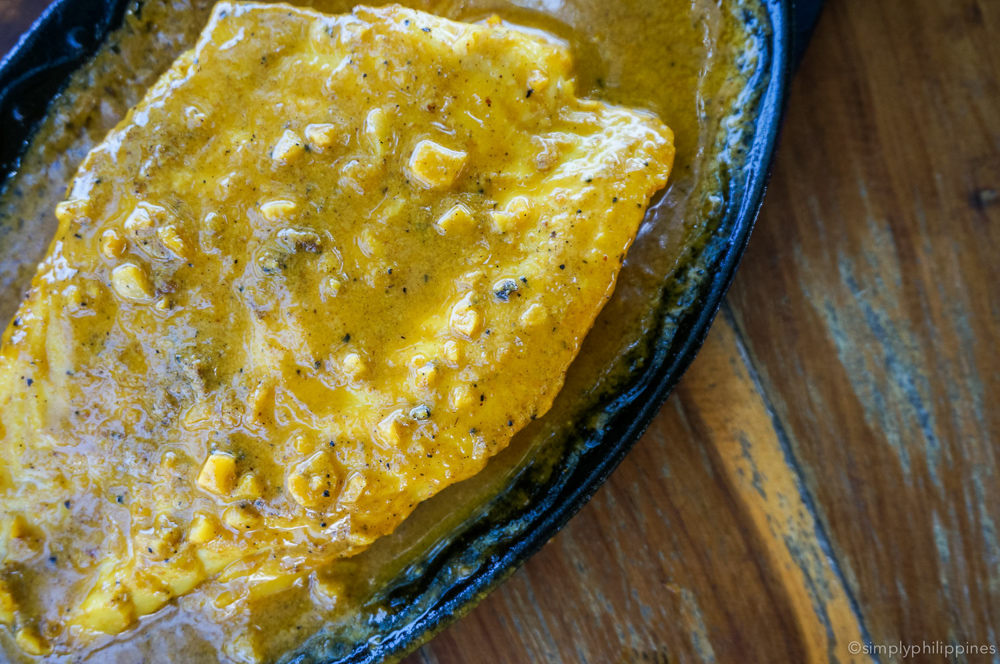 Healthy eats from Bohol Bee Farm
You have to go to the Bohol Bee Farm to really get the lay of the land. It's an organic farm, organic store, ice-cream shop, rustic spa, nature-themed resort and, best of all, a cliff-hugging restaurant that gives you a sweeping view of the rippling water below and Panglao's curving coastline. Lunch at Bohol Bee Farm is basically one of the best things you can do in Bohol. Squash bread, mango pesto and cassava chips come as a complimentary starter, and it only gets better from there.
TIP: My friends have RAVED about the jackfruit ice-cream from the corner store. Whatever your preference, be sure to grab a scoop on your way out.
Surprise, surprise veggie burgers in Port Barton
Unless someone tells you, you'd never guess what goes into these soft, juicy paddies that show up now and then around the Philippines. Here it is: banana heart. Even if you're not a vegetarian the texture and taste of these moreish paddies make them so worth a try. The best I've found were at Barton Bistro ( a two-time winner on this list) where the veggie burgers come with sweet potato chips.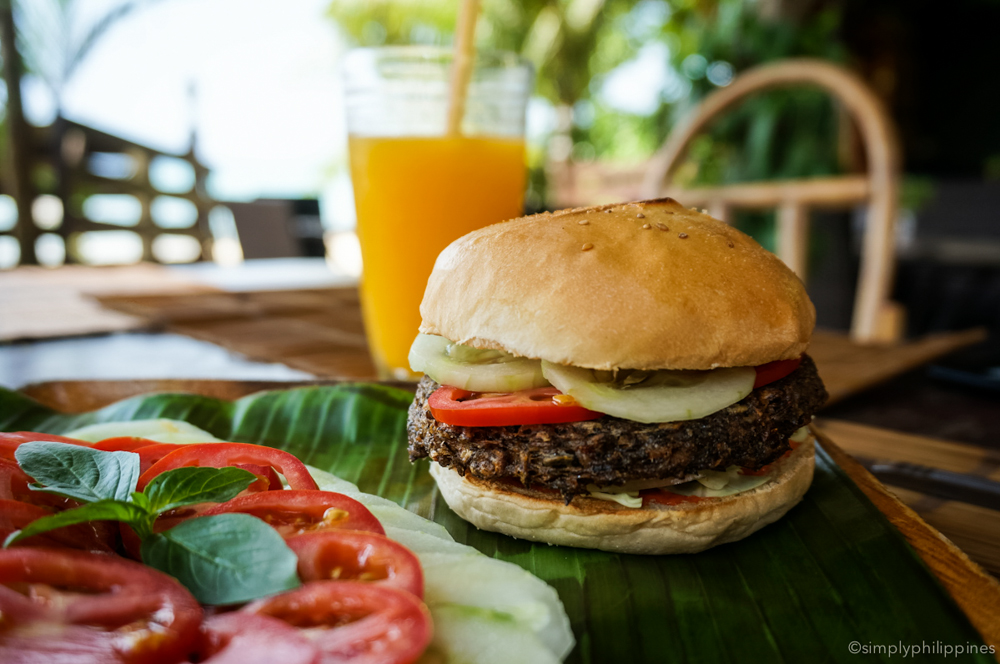 Mish-mash from the Salcedo Morning Market, Makati
If you're ever in Makati on a weekend, you have to check out the morning markets: Saturday on Salcedo St., and Sunday on Legazpi. These are upscale weekend markets, bringing together up-and-coming dining outlets, home cooks and entrepreneurs. You can feast on specialty dishes, like squid ink paella and fried pork knuckle, and sample some interesting small bites, local coffee and Filipino desserts. A not-to-be-missed Manila excursion!
Molo soup at Camina Balay nga Bato, Iloilo
By Filipino standards this is actually a snack. But if you make it all the way to Iloilo City, you might as well have seconds and thirds of Kapitan Insing's legendary pancit molo soup. The dumplings are stuffed in the silkiest white skin with a special mix of pork, shrimp and chicken. The hot chocolate is made thick in the Filipino style, from cacao beans grown not far away.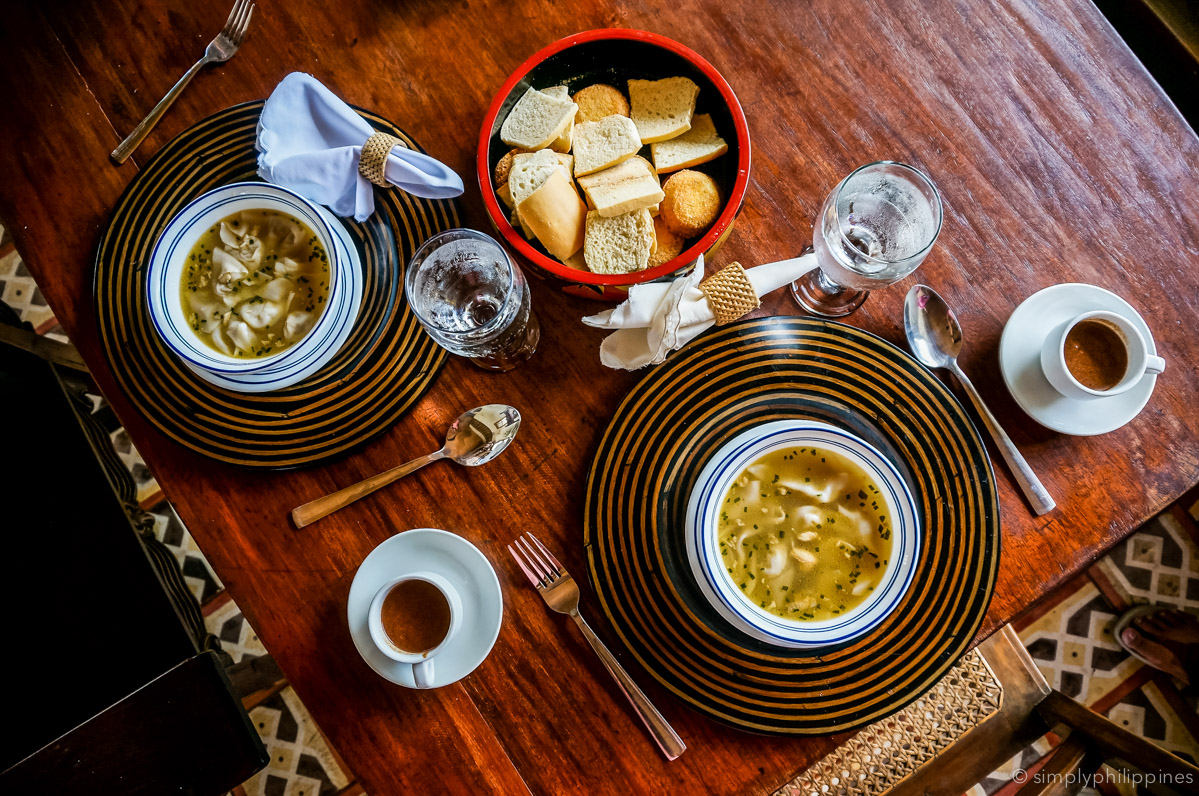 Contemporary Filipino at Tito's on Boracay
Tito's second-floor restaurant was a breath of fresh air for me. Crazy local friends suggested I check out this spot overlooking the busy beach of Station 2. I remember lots of inviting options from the menu, but I ended up with tofu sisig (as indulgent as the normal one), grilled prawns on greens braised in coconut milk, and a colorful bowl of halo-halo to finish.
True story: I picked a book by a Filipino author from the shelf to read and ended up asking the waiter to see how much the owner would sell the book to me for. He returned to tell me I could have it for free. So obviously, I love Tito's, and not just for the food.
Tuna and chickpea salad from Kookoo's Nest in Siaton
Somehow this meal just haunted me. I think I'd go all the way back to Negros Oriental to eat it again. A friend who shared it with me tried to replicate it in her own kitchen too — it was that good. The pita bread comes hot from the brick oven at Kookoo's Nest. Take a little dollop of sour cream, spread it inside the bread, fill the pocket with leafy greens and lots of that crunchy salad, and you've got a bite of heaven.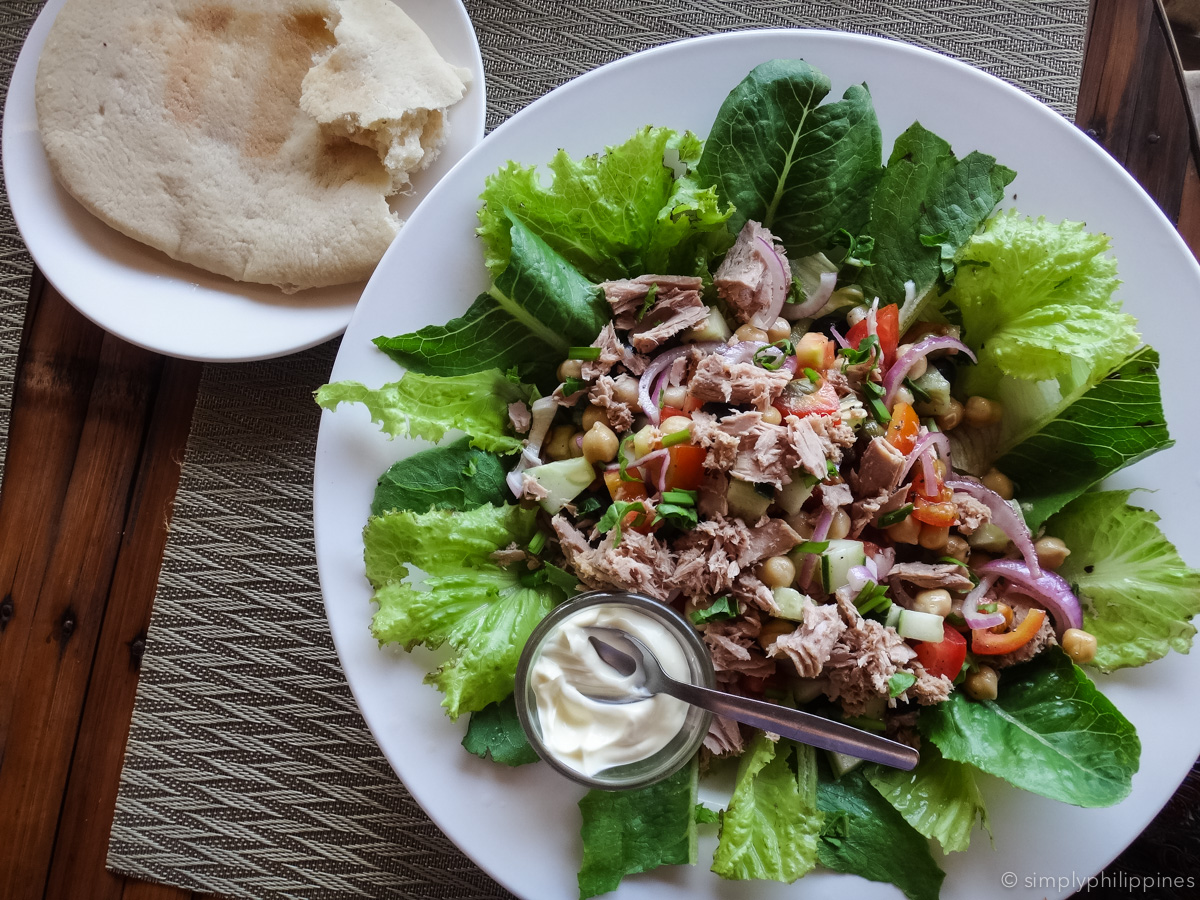 Island-hopping beach picnic in El Nido
Saved the best for last? Quite possibly. Lots of travelers come back talking about the great food they had on their El Nido island tours, but I think this one, prepared by our good friends from Talindak Beach Cottages, was truly special. The boatmen set up everything while you swim or lay on the sand. Then you come back, fill a plate with the good stuff, and find a rock or a piece of wood or anywhere to sit and eat with your hands, trying to control the mess and the groans of pleasure. Afterwards there's crisp, cold fruit and if you need it, a nap on the boat.
---
Where to eat in the Philippines for breakfast? We love La Casita de Baclayon
Alright, this is the only one that isn't exactly open to the public — you have to stay at La Casita to try their breakfast. But what a breakfast it is. I think given the choice for just one more breakfast in the Philippines I'd have to take the served-with-love spread at La Casita. Really there isn't much more you could ask for, and it's laid out in their garden courtyard under the shade of a old mango tree. Bliss!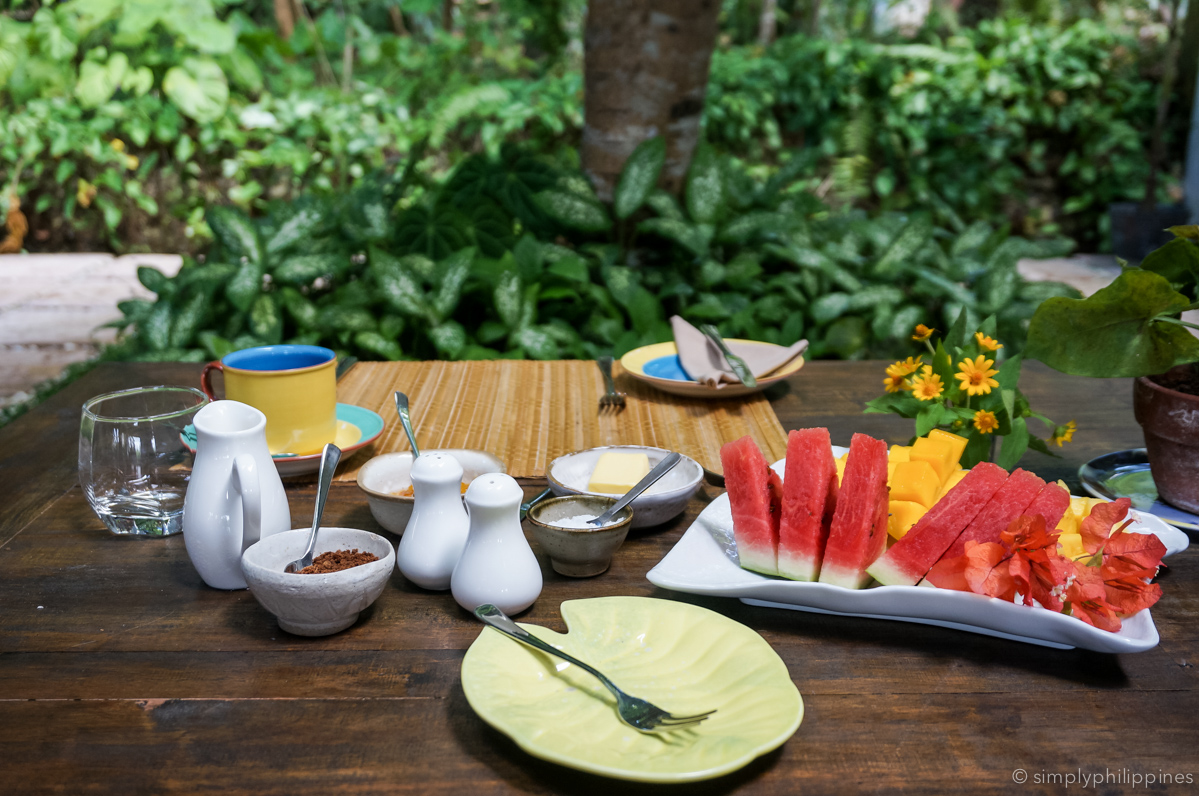 Coming soon for sweet tooths: 10 Memorable Filipino Desserts!
---
♥♥♥